How lucky are we that we live in a day and age where you can date anyone from literally anywhere? All you need is a computer and a passport, and you can find love from halfway across the world. It is truly the most amazing effect of modern technology.
However, just because it is easy to meet international singles and start relationships with foreigners, it doesn't mean it's easy to sustain them. If anything, the distance, language barriers, and cultural differences make it super hard.
In this article, we'll share what to expect from and what are the challenges of online dating with foreigners. We'll also share our top tips for international dating success should you choose to take this path.
What to expect from dating a foreigner?
If you have never dated a foreigner before, then you are either incredibly excited or super scared about the experience. The truth is, there are plenty of reasons for both expectations.
To give you a better idea of what is to come, below are a few things you are inevitably going to go through should you decide to date a foreigner.
He or she is just a human being like any other
Your foreign boo is not some mystical creature whose truths and secrets you can never fathom. They are just like you, only that they come from a different part of the world. It will take a while for you to come to terms with this, but it is a very refreshing realization once you get there.
Some stereotypes are true, and others aren't
Every region and culture in the world has some stereotypes attached to them. From feisty Latinos to non-committal Nordics, you have probably heard them all. While these may be funny and interesting to learn, don't make the mistake of holding your partner to all those standards.
Instead, get to know them as individuals. Some of these stereotypical behaviors may show. However, more often than not, you end up being surprised by how unique and amazing the person is.
You will have a beautiful and unique relationship
Speaking of unique things, your relationship will definitely be something different! And the merging of two cultures is something to celebrate. You will get to share each other's values, traditions, ways of life, and, best of all, food.
… but it will be an expensive one
However, international dating isn't all bliss and butterflies. These relationships tend to be very expensive, especially when it comes to frequent traveling back and forth. The best solution here is to have a long-term plan of moving in together, whether it means you moving to their country or vice versa.
That language barrier issue is real, but you get free lessons
This is probably your main concern, especially if you are considering dating someone who is not from an English-speaking country. Fortunately, there are numerous services today, including real-time online translators, that help bridge this gap. Better yet, you can use it as an opportunity to bond with your new bae as they give you free language lessons.
Haters gonna hate
Something no one will tell you about being in a mixed nationality relationship is how much skepticism and criticism you will get. It could be your family questioning your lover's motives. Maybe your beau's family doesn't approve of them dating someone out of their culture. What matters the most is that you both love each other and are willing to fight for what you have.
How can you meet people from other countries?
If this question pops into your head or your friend asks you this, the answer is easy; the best place to meet people from other countries is through international dating sites or chat groups! Giving you an experience you will not forget, international dating sites have got it all.
The best thing about dating sites is that some are free. All you need is a good internet connection and a decent laptop. Really that is all. With these two basic facilities, you are good to go.
Not just that, you can also use your mobile for online dating. Sign in and chat on your smartphone easily, no matter where you are. International dating sites or chat groups let you engage with people from all over the world!
8 Reasons why international dating is awesome
You get to meet the person online without having to make much effort
You get to meet new interesting people
There are no strings attached; you can delete someone off your friends' list whenever you feel the need to
Online dating sites can give you a discreet relationship
You can have private affairs that no one knows about
Finding new friends
Open your profile on your smartphone and chat with your friends anywhere you want
The best thing about finding a girlfriend online is that you do not have to worry whether the girl will reject you and be harsh with you in person. Get to know the other person online at first, and who knows, maybe you get to hang out with them in person too!
5 Dating Websites to Meet People Online
If you are new to the world of international dating or if you want to try newer avenues, here are some of the best dating options for you.
For Latin Dating – LatamDatecom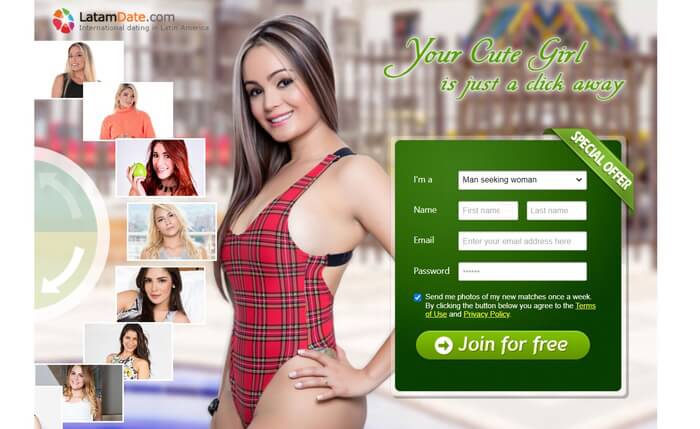 When it comes to providing international dating services, LatamDate helps you connect with Latin singles from around the globe. They focus on global users and the possibility of dating someone from a different culture.
They acknowledge that you don't have to have specific goals when communicating with someone, and not every interaction needs to end in a marriage or serious relationship. It depends entirely on how you want your interactions to be – casual or serious.
It has a diverse member base, and there are thousands of profiles of beautiful South American women as well as men on the platform. The international dating site also has users from the United States and Western European countries. All you need to do is just sign up and enter the pool to date Latin singles.
The company has earned its title as one of the most revered Latino dating sites because they emphasize the users' safety. Moreover, the majority of the users are said to have had the best experiences while using their services.
The best thing about Latin dating with LatamDate is the fact that they expand your dating horizons while keeping your personal details 'well guarded.'
Not just that, but when you browse through their website, you will come across a set of pages that guide and help you with useful tips and advice for healthy online dating.
LatamDate.com ensures it accommodates the needs of its users while at the same time making sure they compensate for any misdemeanor that might occur. But considering the fact of how well they manage things, such occurrences are rare. However, it is always a sign of assurance and goodwill when you know that they've got your back.
What makes this dating site more appealing is that they provide free registration with options to browse their entire website, after which you can decide on your membership and the services you require.
LatamDate offers you a wide set of features, from their 'Let's Mingle' feature to the internal currency system of credits, which makes things incredibly easy for you. These credits are also reimbursed to you if anything goes off the track.
It is no wonder that they are incredibly popular in their niche and their target users!
For Those Over the Age of 50 – eharmony.com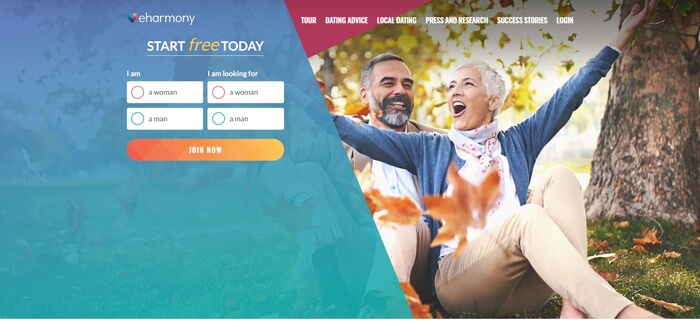 If you are someone who is in their forties and is looking for something special, then this international dating site is definitely for you!
At eharmony.com, matchmaking is taken on a very serious level. This very aspect makes them one of the best dating sites that have been around for quite some time. If you ever thought your age could hamper your dating life, then this site will prove you wrong.
While most online dating sites are targeted at a much younger audience, eharmony.com is unlike other run-of-the-mill dating sites. It has thousands of profiles of people in their forties and over who are serious about finding a life partner.
The company aims to connect older single women no matter where they are located and inspire romance on a global scale. The team at eharmony.com knows that the world of relationships has changed and that people are willing to look beyond borders to find love in this day and age.
The site provides a high-quality communications platform and different tools to make it easier for members to get in touch with each other. When you sign up, you can rest assured that you are chatting with eligible singles in a safe and secure virtual space.
This one is definitely worthy for anyone on the lookout for serious and long-term relationships. Learn more about dating cougars and older women here.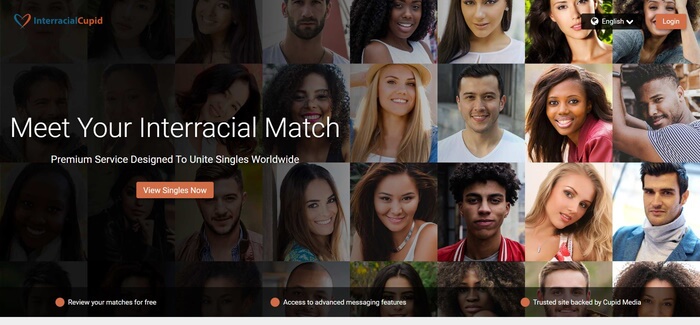 InterracialCupid.com is the perfect venue for people who are interested in interracial dating and are looking for long-term relationships. It is hands down one of the best international dating sites if you are looking for a serious companion or a life partner and their cultural background is important to you.
Registration on this international dating site is free, and if their service record is anything to go by – the quest of finding an ideal partner will become much easier.
Dating people from Europe, the United States, or Africa – all of this is possible on InterracialCupid.com.
If we talk about their features, then there is hardly anything that this dating site leaves behind. You first need to create a profile that is detailed, and you can also add some pictures to attract any potential matches. It also lets you look up an ideal match by making use of its built-in search feature.
Users with free membership can check out the profiles of other users and browse through the site. But there is a limitation here – if you want to use premium services such as Video Chat or others, you need to purchase a membership.
For Men Interested In Asian Dating – AsianDating.com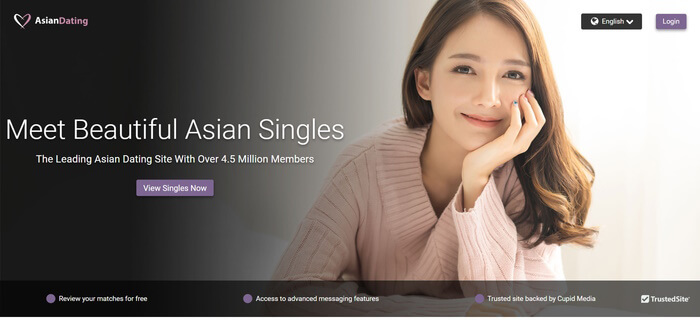 AsianDating.com has been advertised as one of the top dating sites for meeting beautiful Asian girls, and rightly so! It has thousands of members from countries like the Philippines, Thailand, Vietnam, China, and more.
Now, chances are you have dated Asians before and have had some fine relationships; however, most people don't usually date outside of their culture, which is why the prospect of dating an Asian woman can be interesting and appealing at the same time.
The sign-up process is fairly simple and straightforward – register for free, set up your profile, add some high-quality photos to attract attention, and get browsing! Keep in mind though, that while registering an account is free, you do have to pay to use Premium services, such as Live Chat or Video Chat.
For American Singles Dating – FOC.Dating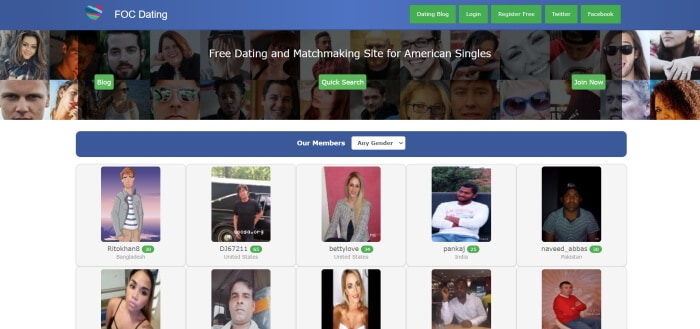 There are a bunch of dating and matchmaking sites out there these days that don't hold a lot of promise. Some of them you have to pay for, others you don't. Personally, I don't think you should ever have to pay to find someone you're interested in, but problem is, free matchmaking sites just don't work. A lot of them don't have enough American singles, or their members aren't active, so while the site looks good, you're just wasting your time signing up.
FOC Free Matchmaking site from the USA is completely different. It's free to sign up, and it will tell you right off the bat if the American single profile you're looking at has been recently active or not, so you don't waste your time. And, of course, it has all the general features that most matchmaking sites have. You can enter the criteria of who you're looking for and use the messaging features. The site also has a feature where the site will randomly show you a man or woman's profile in the event you're just looking around.
So, if you want to find an American single without having to pay, why don't you use a free matchmaking site like foc.dating.
If you are interested in funny or strange encounters, then these weird dating sites are meant for you!
8 tips for dating someone from abroad
As you can see, online dating with foreigners is completely different from being in a regular relationship with a close-proximity partner. But if you didn't get spooked by what you just read, here are eight tips that will help you find a foreign partner and succeed in international dating.
Make use of online dating apps
So you have decided that you want to date a hot Latina woman (like the ones on AmoLatina.com), an exotic beautiful Asian woman, or a hot Eastern European man? That's pretty cool, but you might be wondering where exactly and how to meet foreigners.
Well, international dating apps exist to solve this problem by providing you with direct access to whatever nationality, race, or cultural background that interests you!
Master the art of long-distance dating
More often than not, dating a foreigner involves getting into a long-distance relationship. To make it work, you will need to put in a little extra effort. It means regular phone calls, surprise internationally-delivered gifts, and even virtual dates. That way, it is like you are in the very same country.
Learn the language
The language barrier is one of the greatest challenges of dating a foreigner. Fortunately, these days, we have direct translation services that make it very easy to communicate via text and email.
However, these will only take you so far, as they do not help much with verbal communication. In this case, you might want to consider learning your partner's language, teaching them yours, or both.
Show interest in each other's cultures
If you are from different countries, the chances are that the culture will be different as well. If you do not take your time to understand the variation and respect it, there will be problems in your relationship.
Make sure to ask questions and do your research. It's also a sign that you have a sincere interest which goes a long way toward helping the relationship grow. If you don't show any interest in your crush's culture, it will be difficult to get a Latina to like you.
Take your passport out of storage
Whether you started dating while on vacation or you've been in an online relationship for a while now, you will have to do some traveling to sustain the relationship. Online correspondence, video calls, and letters will only keep things going for a while!
So, if you are serious about turning your relationship into something long-term, you will have to invest in regular visits between both countries. It is also a great opportunity to take in the culture firsthand and experience all that your significant other has been praising about their country.
Do your homework before dating abroad
As with any other kind of online dating, it is important that you look into your partner's life. The reason for doing this is to ensure that you do not end up getting scammed, which is a significant risk when it comes to dating abroad.
If you are using an online dating site in Thailand, Argentina, or anywhere else in the world, make sure only to correspond and focus on people whose profiles have been verified as being authentic. That will save you a whole lot of trouble.
Appreciate the value of reciprocity
Do not be the kind of person who gives and gives and never gets anything in return in the relationship. Giving too much is common when dating foreigners, where there is a tendency to have one person focus too much on input, especially financially. If you feel like you are being used as a long-distance ATM, you might want to kick rocks.
Open up your heart – and your eyes
While it is important to be open and vulnerable in these situations, you also need to make sure that you look out for any red flags. Do not be so blinded by love that you miss obvious signs that something is wrong with the relationship. It is particularly important as the distance involved may help shady partners hide their shady ways.
Conclusion
Online dating with foreigners definitely has its perks. You get to learn about new cultures and regions of the world, and if you are lucky, you may get to experience it all first-hand.
These tips will come in handy to ensure that your relationship runs as smoothly as possible. That way, whether it is someone who speaks a different language or views love and romance in a completely new light, you will have an idea of how to get things right.