Eastern Europe is a hub for cultural variety which makes it one of the best places to find international love. Whether it is in Bulgaria, the Czech Republic, Croatia, Estonia, or even Hungary, you will not be disappointed in the variety of international single men there.
Eastern European men stand out with their perfect combination of intense, unique physical features and charm plus manners that are often picked up as a result of growing up in East Europe.
Here is more on what they have to offer and how to date an Eastern European man successfully.
What Eastern European guys have to offer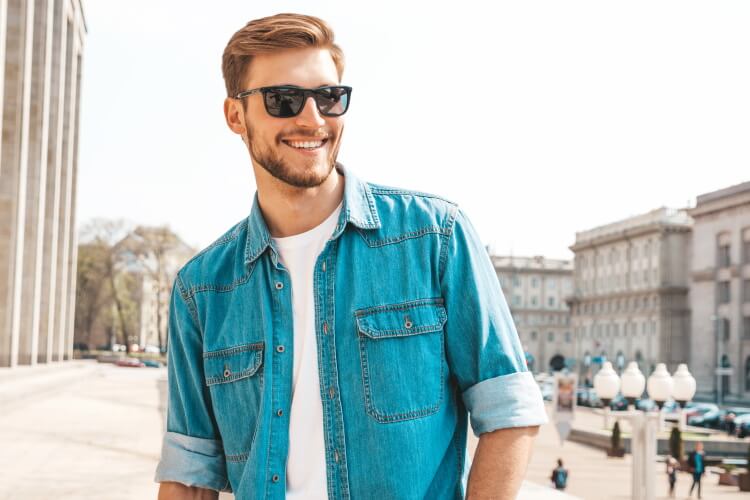 Stunning manly features
Dating an Eastern European man means having eye candy for yourself for the rest of your relationship. These men typically have very masculine features (and many look like models), including chiseled facial bone structure and lean masculine bodies.
Eastern European physical characteristics like hair color and eye color vary from region to region with blonde hair, brunette locks, brown and blue eyes being the most commonly found. The same goes for Eastern European women like those gorgeous Estonian women, or Polish girls.
Fierce go-getter attitudes
European men, very much like Swedish men, are very goal-oriented. They are willing to go after whatever they want. This is particularly the case in their careers where they will do whatever it takes to achieve their dreams. This is an incredibly admirable quality that comes in particularly handy if you are planning to settle long term with one of these men.
Value for traditional gender roles
Eastern Europe gentlemen like Polish men are brought up with traditional values for the most part. This reflects in their attitudes towards things like gender roles. It is not uncommon to find men insisting on being breadwinners in the family and paying for everything. Even in a day and age where gender equality is a norm, he will still want his chance to prove his ability to take care of you.
They do not hesitate when interested
Their career and vocational go-getter attitude spill over to their approach to new relationships. If an East European guy is interested in you, they will not hide it. They take initiative almost straight away, which is a major perk if you are tired of playing the 'he likes me, he likes me not' guessing game.
They value hard work
Dating Eastern European guys means you get to benefit from their hard-working attitudes. This applies to everything from social and family life to school and work. They also expect the same of their partners, so be ready to get your hands a little dirty too as you move towards common goals as a couple.
They respect women
An Eastern Europe male has usually grown up having being taught the value of women in the family and society in general. They tend to be very respectful to women they interact with in their adult years. He will respect your opinions, preferences, dreams, and everything else that makes you happily you.
You May Also Like: 8 Challenges of Dating A Foreigner
They keep chivalry alive and well
Eastern European males might not be as romantic as mwn from other European countries, but they are still very chivalrous. They will open that door, pull your chair and offer you a coat and all that other good stuff. This again boils down to their upbringing in homes where they were taught to be providers and protectors of women.
They are open about their intentions
This again spares you the torture of having to guess what he wants from you. Whether he is in it for a good time or for a long time, a European guy will make his intentions very clear very early in the relationship. This gives you a chance to decide whether or not to move forward, depending on how well your objectives align.
Online Dating in Eastern Europe
eharmony – The Best Dating Site to Eastern European Guys
Dreaming of a captivating night under the Eastern European stars with an enchanting Slavic beauty? Your quest concludes at eHarmony, your digital cherub ushering you towards a significant, lifelong bond.
eHarmony isn't your run-of-the-mill dating portal – it's an amorous uprising! It flings the idea of casual dating to the side, focusing on singles like us who desire more profound connections. It's a gathering place for all faiths and cultures, with a significant influx of Orthodox singles, thanks to its earnest approach to love.
Its allure lies in the Compatibility Matching System – a unique blend brewed from an extensive questionnaire. Picture this: tackling a succession of queries, sketching a truthful portrayal of yourself, and presto! eHarmony introduces you to a host of Eastern European enchanters who share your interests, your values. They even prompt the first shy "Zdravstvuyte" to your match.
The caveat? eHarmony requires us to demonstrate commitment. Only profiles more than half complete can send or receive messages – an endearing way to ensure serious suitors only.
Their three-tier membership – Premium Light, Plus, and Extra, ranging from $39.90 to $69.90 per month, might appear costly. But with regular sales and offers, it's a worthy gamble in love.
Sure, there are a few stipulations – a strict refund policy, and profiles without photos. But they have a committed security team sifting out imposters, ensuring your match is legit. So, are you set to find your Eastern European love?
The Eastern European dating culture – European men vs. American men
With all this in mind, you are probably beside yourself with excitement at the thought of dating one of these guys. But hold your horses, sweet child. What you are getting yourself into is a whole other turf!
There is a world of difference when it comes to dating Eastern European males if you have gotten used to the American way. From the dating culture and style to the expectations, there is a lot to learn.
To spare you the confusion when you are confronted with this truth in real life, here are a few things you should know to make the relationship with your euro-bae to work.
Quick disclaimer:

This comparison is not in any way aimed at throwing shade at our dearly beloved Western companions. It is simply a guide to the major differences in European and American dating so you would know what to expect!
And now, without further ado, here are the variations in the American and Eastern European dating cultures:
Little to no relationship definition
Eastern European guys really do not like to label things. You will go on many dates, hang out, and even get intimate. However, if you bring up the "what are we?" question, you will end up thoroughly disappointed.
Unlike American men who love a tag, European guys do not see the need to. They find other ways of reassuring you of their commitment, and you may just have to take what you get.
A lot of group dates
Men from European countries tend to have very close-knit friendships. So do not be too disappointed if one or two of your dates end up being group dates with the gang at their favorite spot.
In fact, this is something you should take as a compliment as it means that he sees enough of a future with you to involve his friends.
American boys, on the other hand, tend to avoid mixing friendships and relationships for whatever reason. So if you are tired of nagging men you previously date to introduce you to their friends, you might want to look a little farther east for love.
Slow and steady is the pace
American men live life on the fast lane, and this goes for their relationships as well. It is not uncommon to find couples moving in together or even getting married after knowing each other for only a few months.
The same approach is also applied with intimacy with one-night stands and sex on the first date being very common in the Western dating culture.
This, however, is not the case with East European men. These guys love to take their time, and you will have to be patient. Just because he hasn't asked you to move in or made strides forward with your intimacy doesn't mean he is not into you. They just take a little longer to get there than what you might be used to.
The full gentleman treatment
Not to seem negative about American men, but they have nothing on Eastern Europeans when it comes to manners and respect for women.
Europeans are taught from childhood how to be perfect gentlemen in everything from how they speak to female friends to how they treat their significant others. So brace yourself for some pretty old-fashioned gentleman treatment.
One beau at a time
Finally, European guys, especially Italian men, differ from American men when it comes to openness about playing the field. While some if not most Americans are okay with dating multiple girls at a time as they figure out what they want, Europeans prefer to keep their relationships exclusive. This is perfect if you have trouble sharing as you can rest assured that you have his full attention.
3 key tips on how to date an Eastern European Man
Do not insist on labels
As mentioned above, these men are not very big on labels. They do, however, make up for this with their upfront approach to things. You might not get that relationship title you want, but you are guaranteed loyalty.
Reciprocate the respect
These men really value respect, so giving it to them is one of the best ways into their hearts. Listen to his advice. Appreciate his efforts. Show interest in his plans. All these contribute to respect and will definitely keep you in his mind.
Be modest; but not boring
Eastern Europe consists of predominantly conservative cultures so you need to learn how to be modest in order to catch the eye of one of their men. However, they also appreciate an effort to look nice, so make sure to keep it spicy and interesting in whatever ways you can.