Samoan men are undoubtedly on the rise in popularity as far as the international dating niche is concerned. So if you are interested in finding a hunky islander of your own, you have come to the right place.
The information and tips we are about to share were gathered through extensive research and a bit of personal experience.
In this article, I'll discuss:
What are Samoan men like?
How to meet a man from Samoa?
The pros and cons of dating a Samoan man
What do Samoan guys like in a woman?
Without further ado, here is all that you need to know about dating Samoan men.
What are Samoan men like
First thing's first, what exactly are you signing up for by choosing to date a Samoan guy? To help you better prepare yourself for the relationship, here is a brief but insightful look at what Samoan men are like.
The physical appearance
Tall and bulky
Most Samoan men are quite tall, with the average height being about 5 feet 9 inches to 5 feet 11 inches.
In addition to being so tall, most of them have a naturally bulky frame with broad shoulders and thick muscles. Many of them don't even have to go to the gym regularly to keep up this build.
Dark features
Samoans are among the Polynesian ethnic group. Their ancestry is incredibly diverse, with influences from Asia and Africa.
As a result, many Samoan men inherited their ancestors' beautiful, dark features. These include jet black hair and naturally tanned skin, giving them their exotic flair and uniqueness.
Intense eyes
Looking into the eyes of a Samoan guy is truly an out-of-body experience. Maybe it is those thick bushy eyebrows that keep you fixated. Perhaps the richness of the black or brown tones of the eyes is so hard to resist. Or maybe it is the warmth and genuineness deep within their gaze.
Whatever it is, Samoan men have some of the sexiest and most intense eyes you will ever have the privilege of looking into.   
Heavily tattooed
Tattoos are a huge part of Samoan culture, so it's not uncommon to find a Samoan man with a huge part of their body covered in beautiful, cultural art. Some even have these tattoos boldly and proudly displayed on their faces, necks, or scalps.
That is no doubt a part of what makes Samoan men so hot!
The personality of Samoan men
Chivalrous
Chivalry is not dead in Samoa if the men there have anything to say about it. They are known the world over for being perfect gentlemen, whether it is holding the door open, picking up the tab, or making the first move.
It no doubt has something to do with how they are raised. Values like politeness and respect towards women are instilled in them from a young age.
Trustworthy
If you are looking for an honest and loyal man, look no further than Samoa. The men here are very trustworthy both in relationships and outside them. The dating culture there also strongly encourages fidelity which makes them reliable partners.
Confident
Another aspect of Samoan men that makes them so sexy is that they are mostly very confident. They always know what they want and usually have no trouble going for it.
Their confidence applies not only to relationships but also to how they face challenges and approach their goals.
Friendly
Samoan men might be intimidating with their great looks and muscular stature, but they are super friendly and easy to approach. This will make it especially easy to get to know them if you are shy.
Where to meet Samoan men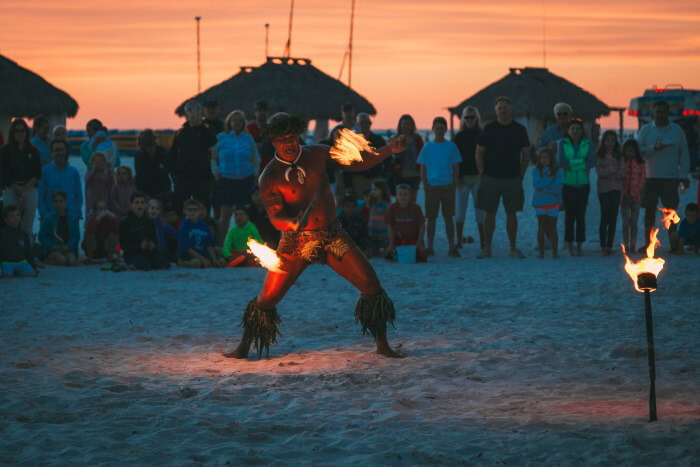 Online dating in Samoa
Online dating has made international dating easier than ever before. It is the best option you have to meet a Samoan man. You could try international dating sites like AmoLatina.com that specifically cater to singles looking for love beyond their borders.
You could also try other general dating websites that allow you to expand your search to different countries. In this case, your best chance at success in meeting a Samoan guy will come from sites like Tinder and Dating.com.
Meeting men in Samoa
If you like to meet your men the traditional, in-person way, then visiting Samoa is definitely an option you should consider in your search for your Pacific Island prince.
Samoa is a beautiful place with a lot to offer in terms of attractions. These range from natural attractions like the To Sua Ocean Trench to cultural hotspots like the Samoan Cultural Village.
However, if your main goal is dating a Samoan guy, here are two cities that should serve as the perfect starting point for your search.
Apia
Apia is Samoa's capital city and one of the most culturally diverse spots in the country. You will meet all sorts of Samoan men here.
It is a cultural, administrative, and commercial hub that tourists often frequent by day. Apia turns into a relatively wild party scene at night with clubs like Club X and Te Namo Bar drawing both local and visiting crowds.
Asau
If you want to avoid the hustle of the crowds in Apia as you look for your dream Samoan man, then Asau might be perfect for you.
This seaside village combines the best of both worlds with the quietness and peace of a relatively small village and the fun of a beachside gem.
Here, you are more likely to meet Samoan men who are a bit more traditional in their ways.
Pros and cons of dating a Samoan man
The pros
Respect
Dating a Samoan man is awesome mainly because of their respect towards women. It doesn't matter if you are his mother, girlfriend, or a lost tourist looking for directions.
They are hardwired to treat women with kindness and respect, which extends to relationships.
Thus, it is very easy to build a healthy relationship with a Samoan man, especially if you show him the same level of respect.
Loyalty
You have very little to worry about when it comes to infidelity when dating a Samoan guy. That is because they tend to be incredibly loyal to their partners. It has a lot to do with the dating culture in Samoa, as loyalty and fidelity are greatly valued.
The princess treatment
Samoan men know how to make a girl feel special. It doesn't matter if your Samoan beaux is a super-wealthy man or living a simple life in the rural parts of the island nation.
They will not hesitate to treat you like a princess and ensure that you are constantly reminded of your value in their life. The best part is that they understand the importance of the little things just as much as they value grand gestures.
No drama
Samoan men are typically calm and very laid back. Of course, they will not hesitate to defend themselves if they must, but they typically avoid confrontation.
That is the case in their relationships, where they will work as hard as possible to avoid drama and petty fights.
Cultural exposure
Dating a Samoan man also means getting to experience their rich and diverse culture first-hand. You will learn a lot about their traditions, history, the language, and most importantly, the food.
No tour guide or book will ever come close to how dating a Samoan allows you to experience the country.
The cons
A bit too chill
The chill nature of Samoan guys may be a great thing if you don't like drama, but it will no doubt get frustrating.
These men love to live in the moment and do not like burdening themselves with heavy topics like planning far into the future or defining relationships.
If you don't like going with the flow, you have to be prepared for a lot of frustration when dating a Samoan guy.
Intrusive family members
When you date a Samoan man, you date his entire family.
Unfortunately, this is not always great as the family can be very intrusive. So don't be surprised if you get asked for babies or financial assistance soon after being introduced to them.
While this may not be the case with all Samoan families, it is common enough that you should at least prepare yourself mentally before starting your relationship.
What do Samoan guys like in a woman?
Samoan guys have a lot to offer, and so you are definitely in for a treat if you manage to get one in your sights. But how exactly will you make sure that they like you as much as you like them?
Here is a quick look at what Samoan guys like in a woman.
Take care of yourself
Samoan men are very big into eating healthy and staying active. Therefore, if you want to catch the attention of one of these tall, dark and handsome men, you have to put some effort into taking care of yourself.
This doesn't mean that you have to look any specific type of way to get one to like you. You just have to show that you are intentional about living a healthy life.
Make an effort to learn his culture
Samoans are very proud of their culture and greatly appreciate it whenever visitors show interest in learning.
You could try learning the language or even learn how to prepare his favorite traditional dishes. This will make a world of difference in his perception of you.
You will also have something new to bond over as he teaches you more about his culture.
Let him help you out
The damsel in distress theme may be outdated, but Samoan men like a woman who needs them.
So need your man. And if you don't, just fake it for them. This could mean asking for help fixing something that you are perfectly capable of taking care of or it could be asking him to help you run a few errands.
Whatever it is, this feeling that he is useful in your life will make him more attracted to you.
Take care of him a little
In addition to letting him take care of you, your Samoan guy will appreciate being taken care of as well.
They have a bit of a traditional worldview and tend to gravitate towards women with a strong nurturing side. Don't worry; he won't ask you to quit your job and become a full-time homemaker. However, fixing his favorite dish every once in a while and caring for him while he is down will go a long way.
Trust him
Samoan men hold themselves to very high standards when it comes to their integrity and honesty. They typically do not like mistrust, especially over petty insecurities. So trust in his loyalty and integrity, and you will have his heart.
Final thoughts on dating a Samoan man
Now you know what Samoan men are like! We hope that this article will help find a Samoan boyfriend. All the information we have provided on what Samoan men and dating them are like should better prepare you for the journey of love you have ahead.
The best part is that you have a secret arsenal of tips on how to catch their eye to help boost your chances of finding your perfect Samoan match.