More and more people in the older age groups are looking for partners. Yet, some people continue to deny themselves companionship because they're not on dating sites.
If you are over 50 and you think it's not the time to start dating online, you should know that people in this age group are the really successful in finding a match!
We have a lot of information to share about dating etiquette for seniors, so keep reading!
Dating Advice for Mature Singles: 5 Top Senior Dating Tips
Age is Just a Number; Don't Be Shy About It
When it comes to senior dating, the first thing you need to do when you're using a dating site is realize that your age is just a number. Some people in their 70s are still working, and there are retirees at 55.
Your age doesn't define you, so you should not be shy about sharing it on your profile.
All your age is meant to do is give your partner something to know about you. They'll have an idea about what stage you are in life, whether getting involved with someone your age is their ideal situation, and how you could fit into their concept of a new relationship.
Being honest about your age will have a greater chance of working for you than against you in most cases. People will first see that you're honest, and that's always something that you'll want to see.
Moreover, people will be able to find you according to your age, which is usually part of a range of ages that people utilize to figure out their perfect date.
The bottom line is you need to be honest.
This leads to our second point.
Be Honest When Dating Online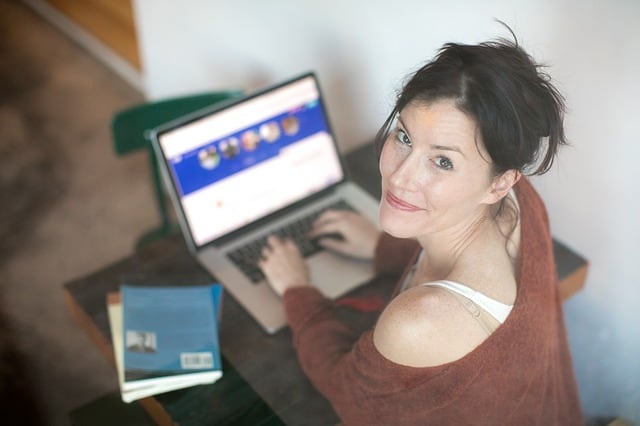 You have to be truthful in everything that you put on the site. Nobody will care if you're 61 instead of 55, but they don't like being lied to.
Truth is the foundation of every great relationship, so you should make sure you embody that all the time. If you start out lying in a relationship, the chances are that you are going to be found out at some point. That action could undo everything you've tried to do with your partner to make them willing to date you.
Be honest about your likes and dislikes, too.
You never want to force a relationship to happen if there is no true feeling. Many people don't like certain animals or professions and might not have a religious feeling in their bodies. That doesn't mean you should be desperate enough to compliment your date's dog and promise to attend church with someone if you don't want to.
It's okay for you to be honest about these things.
Choose Your Best Photo
Choosing your best photo might take practice because it's notoriously hard to get one that highlights all your best features.
However, don't be afraid to ask your friends and family members to take a picture of you that will show off all your best assets. Remember, nobody wants to see a photo that has filters on it – that's being dishonest.
If you're senior dating online, you can expect to see some crow's feet, wrinkles, and a little less luster in your eyes. That's perfectly normal and a part of aging that people will find refreshing to see in a world that has slapped photo filters to avoid the truth.
You want your date to recognize you the first time you meet in person, too!
Be yourself, and you can find people that are desirable and fun.
Watch Out for Senior Dating Scams
In the excitement of recharging your love life, don't forget safety! Senior dating scams are a serious issue in the online dating scene right now, with mature singles losing hundreds of millions to scammers each year.
The most common warning signs of a "sweetheart scam" are:
Your online love interest develops feelings for you very quickly
Their profile looks almost professional with lots of high-quality photos
They are significantly younger than you are
They share too much personal information that sounds like it's from a well-rehearsed story
Although they claim to be from an English-speaking country, their English is very poor. It often indicates you're dealing with a scammer from outside of the country.
They refuse to talk to you over video calls
They flat out ask you for money
Write about Your Features
Many people tend to write about what they are looking for in a good match and forget to write about their own features.
Take a few minutes to write about the best things about you regarding your looks and feelings. It's not that hard to describe yourself properly, but getting used to putting your looks into words can take some time. One thing that people often do is mention all the features they think someone will want to see in a date.
You might love to exercise and have a good body, but you're afraid to list it because you don't look like a professional bodybuilder. Forget about all that and let your date know that you're physically fit and can keep up with them no matter what! They'll love seeing you take pride in something you've worked hard to achieve.
Again, you can also enlist the help of some close friends to come up with creative and unique ways to describe you to your potential dates.
Write about Your Interests and Hobbies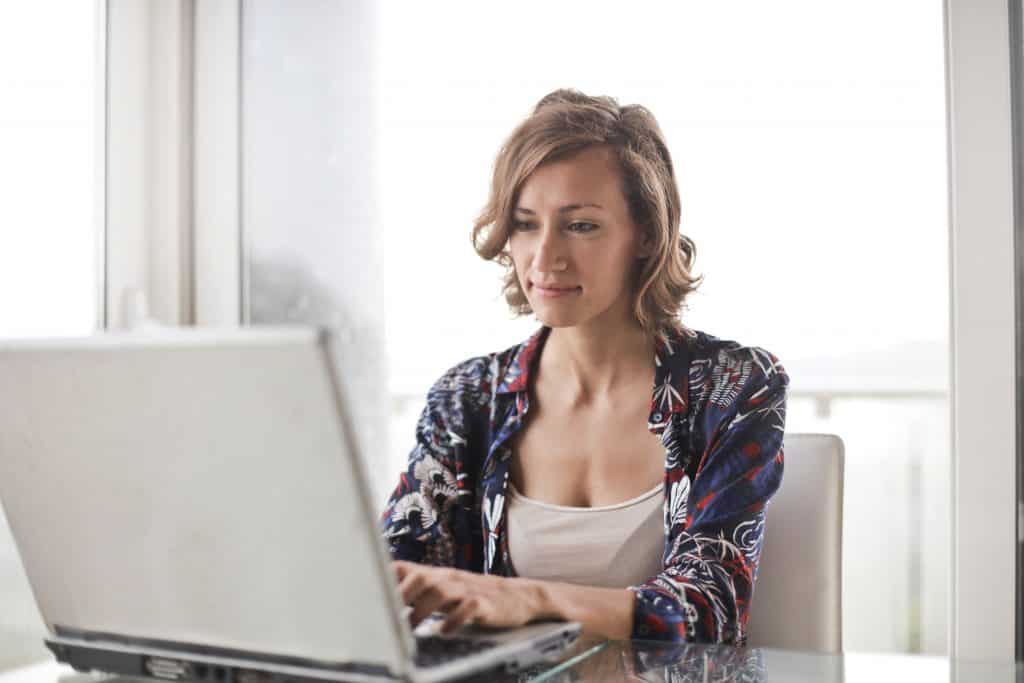 Lastly, take some time to tell people about your passions.
We spend a lot of time wrapping ourselves up in work and everyday living that it's hard to talk about something simple like hobbies. The process of describing what you do in your downtime serves two purposes.
First, you might attract someone simply based on what you like. For some people, a person that enjoys books, hiking, or volunteering is the core of their being. They would love the chance to meet someone that is interested in these aspects of life like them.
Another benefit of this situation is that you could make a friend, even if they aren't of romantic interest. Not only does this give you an edge at having something that is conversation-worthy, but it will also help you find out what you want to see in other people as you fill in your profile.
What are the Best Senior Dating Websites?
eharmony.com – Best dating site for seniors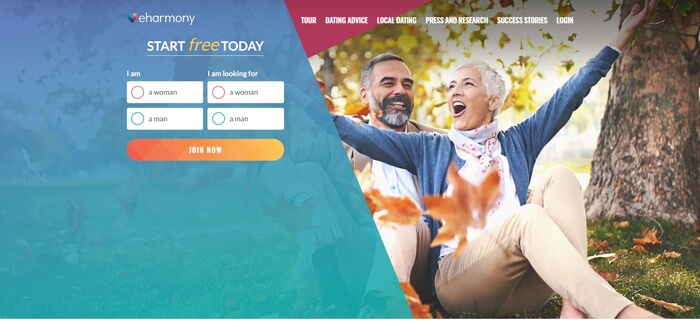 eharmony is where 50+ singles hang out. If you're in your 50s (or a bit younger but can't find your soulmate in your age bracket) and looking to settle down, there's a fair chance you'll meet your partner here – after all, this senior dating site 1,115,000 members active every month!  
Whether you sign up through the website or app, you'll get the same features. Aside from several key contacting features such as chat and email, video chat, and the search option, eharmony also has many special features.
The members' favorite chat allows you to send introductory messages to different members simultaneously. The 'Send Presents' option enables you to do exactly what it sounds like – you can send virtual or physical gifts to other eharmony members and really impress them.
If you're picky about whom you'll give your heart to (as you should be), you'll make great use of the 'Advanced Search' option. You get to filter and narrow your list of potential suitors with just a click.
Standard members can watch plenty of live videos for free through the 'Broadcast' feature. If something doesn't make sense to you, you can always reach out to Live Support – they're happy to make your dating journey as smooth as possible.
Pros and Cons
There's much to love about eharmony! From the user-friendly design, video chat option, and special features to detailed member profiles where you can see if you have similar interests with someone that caught your eye, it offers a unique dating experience.
On a negative note, there are reports of fake and clickbait profiles, and some even argue that contacting options are too pricy.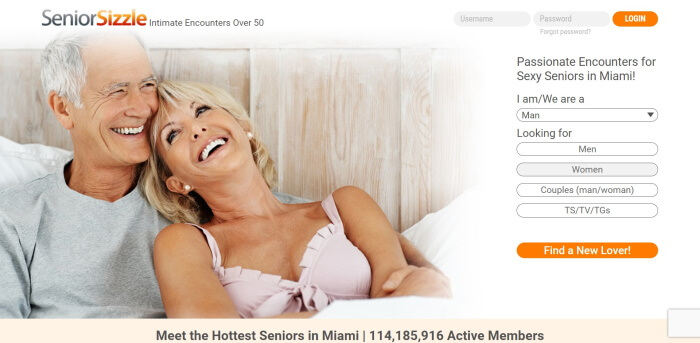 Are you feeling lonely lately? Did you go through a bad breakup and are now trying to find a way to mend your heart? Have your days (or nights) been boring, and you need someone to have casual fun with? SeniorSizzle is THE place to be to meet like minded people!
As a mature adult, you will appreciate that most of the members are aged 45 and up. Even if you're considering dating someone younger, the only age restriction is to be over 18, so the youngsters cannot help but join the party. Since this is an international community, you get to meet people from all over the globe!
As far as features are concerned, even non-paying members get to watch live videos of other members and models. You can also join groups and use the search bar without paying a dime. Once you agree to the service's fee, you'll unlock many other features such as sending messages, viewing other members' profiles, and sending virtual gifts – and you can even join a model's fan club!
SeniorSizzle is not your usual senior dating website. With a diverse members base and laid-back, chill personalities, you can't help but love, this is where the magic happens. Although primarily aimed at seniors interested in easy flirting or finding friends with benefits, you might as well take things up a notch and search for your destined one!
Pros and Cons
We're yet to encounter an online dating website that pays as much attention to keeping its members safe as SeniorSizzle. Designed with older adults in mind, the website is intuitive and easy to use. Offering tons of interactive features other websites don't – live cams and chat rooms, to name a few – it's worth every penny.
Speaking of pennies, we certainly didn't appreciate the lack of functionality for non-paying users. While on it, constant email notifications are another drawback we would like to see fixed in the future.
Is the price to access additional features worth it? It's up to you to decide!
Prices
Free version: Yes
To get full access to all the features (messaging included), you'll need to upgrade to a Gold Membership.
1 month Gold Membership – $40 per month
3-month Gold Membership – $27 per month ($81 billed quarterly)
12-month Gold Membership – $20 per month ($240 billed yearly)
Dating.com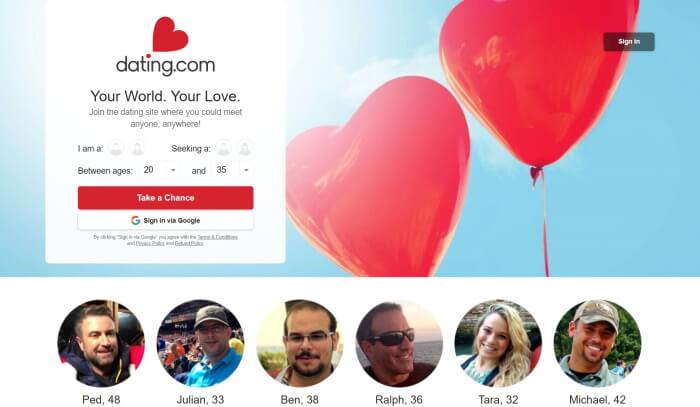 When it comes to online dating sites, Dating.com is probably the most diverse one out there, both in terms of members' nationalities and ages. Although almost half of the members are young adults in their 20s, there are still more than 35 million registered users that might be closer to your age.
What makes Dating.com one of the best, if not the best, website for dating seniors? Is it the 'Let's Mingle' feature for simultaneous introductory messages? Could it be the ability to send gifts to other members? Or is it the fact that you can view profile videos of other members and get to know them better without having to go through awkward conversations?
We think Dating.com came up with the perfect combination of value, price, and worth, allowing members to find their match without overspending. Plus, they're one of the very few online dating services providers that will give you a refund if you get scammed!
Pros and Cons
Dating.com is not for people looking for affairs or casual one-night stands. While the younger generations may consider this a con, it's the biggest pro if you're a serious adult searching for someone to spend your life with.
Although management still hasn't figured out how to detect and ban fake profiles, at least they're willing to give you your credits back. Unfortunately, the free services are limited, allowing members to only use the search function, send winks, and post photos.
If you opt for membership and fee-based services, you get to send and read messages, view profile photos, send and receive emails, and even keep up with who's been looking at your profile.
The fees? Let's check them out!
Prices
Free version: Yes
150 credits per month: $49 ($0.33 per credit)
600 credits per month: $149.99 ($0.25 per credit)
1,500 credits per month: $299.99 ($0.20 per credit)
Premium subscription (available only for the Dating.com app): $9.99/month
6 Mature Dating Rules for a Successful First Date
Just because you're not a teenager doesn't mean you won't get nervous before a first date. Let's be real for a second: dating isn't easy. And contrary to popular belief, it gets harder as years go by.
In the ever-evolving dating world, the only thing that remains constant is class. If you don't want to seem too pushy or uninterested in your date, follow these dating rules and keep things classy!
Dress for the occasion
Are you going for a walk in the park, to see the latest blockbuster or a dinner at a fancy restaurant? Depending on your plans for the first date, make sure to wear the right clothes.
No matter your plans, it's important to stay true to yourself and stick to your style. Sure, you want to impress your date, but you can come off as too full of yourself if you go overboard with your attire.
Keep it in your pants
The phone.
Try not to be online while on a date. Not only is it rude to the other person, but it may seem like you're not interested in what your date has to say. How do you feel when your kids or grandkids don't give you the time of day because they're on their phones constantly?
Exactly…
First dates are for getting to know each other; you can't do that if you're buried in your phone. There's no second chance for a first impression – use it wisely!
Go easy on picture sharing
That's another important dating rule! Sure, your dog is cute, your grandkid's first steps are video material, and your family is one nice group, but not everyone finds this interesting – let alone a person you just met.
If your date asks you to see a picture, show them. But don't show them the whole family album! Oversharing photos of your dog might also be a big turn-off – what if your date is a cat person!?
If your first date goes well, there'll be plenty of opportunities to share some photos – or even meet the people in the picture in person.
Embrace the small talk, ditch politics
Whenever politics or religion are brought up, the discussion gets heated, and more often than not, someone ends up yelling or leaving the room – even when you're talking to your close friends or family.
Everyone is entitled to their own beliefs, and if your date seems to disagree on several fronts regarding politics or religion, you might grow to dislike them. Is it really worth it to give up on what could be the love of your life just because they (don't) like the president?
Discussing politics or religion never ends well – leave it for when you know each other better. Or, at least for another date in the future. Instead, ask your date about their hobbies, interest, or talents to get to know them better.
Leave the past in the past
This is perhaps one of the most important dating rules to follow. Just like you don't want to go crazy on picture sharing, try not to speak too much about your past and previous romantic relationships. While we all somehow end up badmouthing the last person who broke our heart, remember that you're on a date with someone who might heal it.
Even if you have nothing but nice words to say about your ex, it's definitely not a first date topic – that is, if you don't want your date to think you're still in love with your previous partner.
First dates are all about the future. Don't ruin your future by dwelling on the past!
Final Words
The older people that use dating sites are there to find love just like everyone else. While it can be tough to get past that initial mental block before dating, the fact of the matter is that you can find partners when you're over 50.
Using these tips from our dating etiquette for seniors list will unlock your dating potential and give you the best chance to meet older adults that are local, willing to date, and want to have fun with you!